Roger M. Christian
On this home page we'll introduce our web site's mission and highlight important areas in
New York City.
New York City's Leading Events
New York City NightLife Concerts Entertainment Feature News
InterNational and National Concerts Story Bi -Lines NightLife Entertainment News-Features
New York City Concerts and Entertainment On Going Events:
ithacafalcon@aol.com ~ Thank you.
The Latest News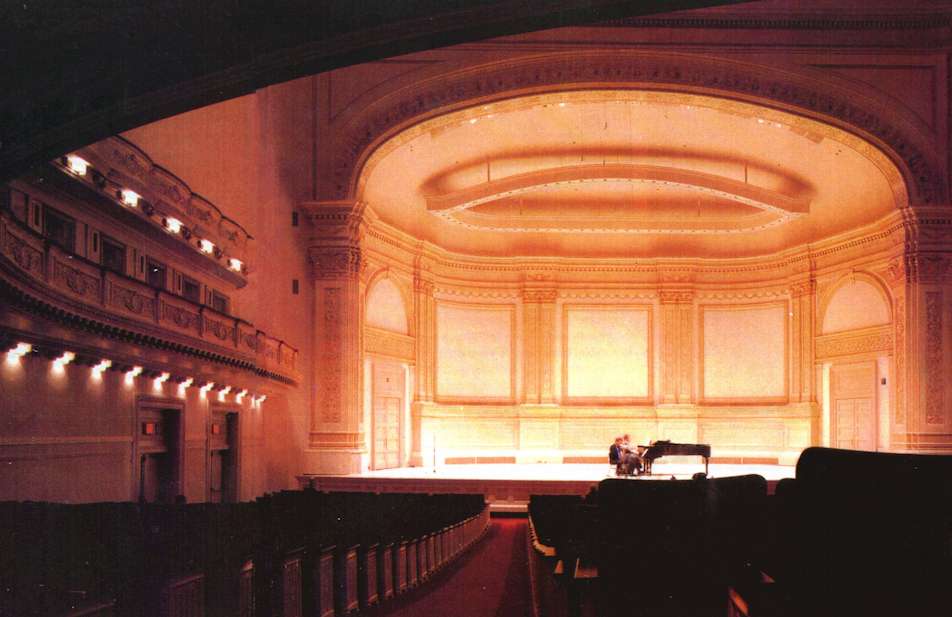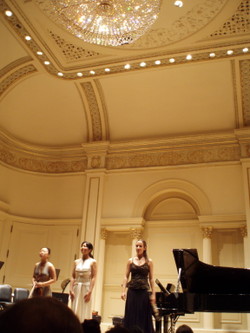 Clive Gillinson, Executive and Artistic Director, today announced Carnegie Hall's 2008–2009 season featuring more than 200 performances by many of the world's finest artists, presented on Carnegie Hall's three stages and throughout New York City in collaborations with many of the city's leading cultural institutions. Major highlights of Carnegie Hall's new season include two complementary citywide festivals that celebrate the dynamic culture and distinctive history of American music—Bernstein: The Best of All Possible Worlds, commemorating the life of iconic American musician Leonard Bernstein, co-presented with the New York Philharmonic in fall 2008, and Honor! A Celebration of the African American Cultural Legacy, curated by Jessye Norman in spring 2009.
"With two major festivals in 2008–2009, we build on our programming approach launched in 2007–2008. Working in partnership with many great New York City cultural institutions, we are offering audiences exciting journeys across a broad cultural spectrum, inspired and drawn together by compelling themes," said Clive Gillinson, Executive and Artistic Director. "Following our current major international focus, our 2008–2009 season pays tribute to the remarkable contribution that the United States has made to world culture, with celebrations of Leonard Bernstein, the African American cultural legacy, and Elliott Carter's 100th birthday, featuring concerts, special events, and major educational initiatives. Building on Carnegie Hall's remarkable history, our goal is to ensure that our institution, through its programming, continues to play a central part in broadening the role and relevance of arts and culture in the lives of the people of this great city and beyond."
Leading this is..
TWO MAJOR FESTIVALS EXPLORE AMERICA'S RICH MUSICAL HERITAGE:
Bernstein: The Best of All Possible Worlds Commemorating Leonard Bernstein—Fall 2008
Honor! A Celebration of the African American Cultural Legacy Curated by Jessye Norman—Spring 2009
CARNEGIE HALL PERSPECTIVES ENTERS 10TH SEASON:
Acclaimed Conductor-Pianist Daniel Barenboim in 15-Event Series Culminating in a Complete Mahler Symphony Cycle Led by Barenboim and Pierre Boulez
Tabla Virtuoso Zakir Hussain Showcased in Five EventsCollaborating with Wide Range of Artists,
For more
Highlights Overview

New York Headquarters
33 West 60th Street, 5th Floor
New York, NY 10023-7905
212-262-5161 phone
212-262-5198 fax
league@symphony.org
From their About WebPage [] The American Symphony Orchestra League provides leadership and service to American orchestras while communicating to the public the value and importance of orchestras and the music they perform.
Founded in 1942 and chartered by Congress in 1962, the League serves nearly 1,000 member symphony, chamber, youth, and collegiate orchestras of all sizes. The League links a national network of thousands of musicians, conductors, managers, board members, volunteers, staff members, and business partners, providing a wealth of services, information, and educational opportunities to its members.
Membership in the League is open to orchestras, individuals, students, other arts organizations and non-profits, businesses serving orchestras, volunteer associations, libraries, and career centers.

Avery Fisher Hall
10 Lincoln Center Plaza
New York, NY 10023-6970
Telephone: (212) 875-5900
Fax: (212) 875-5717
From their About Us webpage: "The New York Philharmonic, the oldest symphony orchestra in the United States and the third oldest in the world, has been a pioneer in the commissioning of new music and in the dissemination of classical music through the use of media, from radio and disc to the Internet. "
From blog
Night After Night
is goog example of the effort which advid concerts have to their philharmonic organizations within their communities.
Xian Zhang, the New York Philharmonic's associate conductor, cuts a diminutive figure on the podium, but good lord, what amazingly powerful sounds she coaxed out of the orchestra on Saturday night! Practically everyone I know was at the Steve Reich All-Stars affair at Carnegie Hall -- apart from Bruce Hodges, who was seated across the aisle. But while the Reich program was undeniably attractive, I'd heard those pieces played live by those performers (except for newish Kronos Quartet cellist Jeffrey Zeigler) before. Reminded recently that I'd yet to hear a performance conducted by Zhang, I decided to push myself out of my comfort zone and attend the Philharmonic concert tonight.
Prokfiev's Alexander Nevsky Cantata is a piece that I've long appreciated without ever really taking it to heart; I've enjoyed it when I've heard it, but I couldn't sing one of its tunes to you. What the New York Philharmonic played on Saturday night (as well as the preceding Thursday and Friday) was not the cantata but the complete film score, as painstakingly reconstructed by the gifted William Brohn, played in time with an immaculate print of Sergei Eisenstein's film. Prokofiev's original soundtrack was recorded by an undersized and none-too-distinguished studio ensemble; what Brohn did was to recreate the score, orchestrated along the more plush and dynamic lines of the later cantata.

Directly from the internet various press releases.
New York City Opera
to bring music to all five boroughs in 2008-2009 as the New York State Theater Undergoes
Historic Renovation

2008-2009 Highlights Include
Samuel Barber's Antony and Cleopatra
starring Lauren Flanigan & Teddy Tahu Rhodes

New York City Opera will present a series of concerts, showcases, discussions, screenings, and master classes in 2008-09, designed to bring the company's unique brand of music-making and cultural conversation to all five boroughs of New York City while renovations take place at its home, the New York State Theater.

Highlights of 2008-09 will include Looking Forward, a dynamic survey of the musical language that will be heard in 2009-10, City Opera's first season under General Manager-Designate Gerard Mortier. Other highlights will include a celebration of American composer Samuel Barber in anticipation of the centennial of his birth, Opera Matters, a series of events demonstrating the importance of opera in contemporary culture, and the 10th-anniversary edition of VOX, City Opera's acclaimed annual showcase for new American operas.

"We are bringing City Opera out to New York in 2008-09," said City Opera Board Chairman Susan L. Baker, "Our goal is to provide audiences with a distinctive series of concerts and events that look forward to the future of New York City Opera, while our home in the New York State Theater is undergoing an historic renovation." Through an unprecedented joint initiative by City Opera and the theater's other resident company, New York City Ballet, the New York State Theater's patron amenities will be modernized and upgraded in 2008-09. Improvements will include construction of an enlarged, movable orchestra pit, which will significantly enhance the acoustical environment.

As the centerpiece of the Samuel Barber celebration, City Opera is proud to present a concert staging of his Antony and Cleopatra on January 15 and 16, 2009 at 8PM in Carnegie Hall (57th Street & 7th Avenue). City Opera Soprano Lauren Flanigan sings the role of Cleopatra opposite baritone Teddy Tahu Rhodes, in his New York City Opera debut, as Antony. The cast also includes City Opera favorites Simon O'Neill as Caesar, David Pittsinger as Enobarbus, Sandra Piques Eddy as Charmian and Laura Vlasak Nolen as Iras. City Opera Music Director George Manahan will conduct. City Opera's celebration of Samuel Barber will also feature a symposium on Antony and Cleopatra on Saturday, January 10, co-presented by and taking place at the Miller Theatre at Columbia University (2960 Broadway at 116th Street).

In anticipation of City Opera's 2009-10 season, Maestro Manahan has developed a concert program called Looking Forward, which the New York City Opera Orchestra and City Opera soloists will perform in all five boroughs. The concerts will survey the music of the 20th century, focusing on many of the composers to be featured in Gerard Mortier's inaugural season. Maestro Manahan offered, "In Looking Forward we will be celebrating the music of some of the great composers of the 20th century: Benjamin Britten, Claude Debussy, Lukas Foss, Olivier Messiaen, Steve Reich, Igor Stravinsky, and Edgard Varèse, among others. It will be a terrific opportunity for audiences to re-discover the beauty and richness of the unique styles and harmonies of this important era in music history in advance of our 20th century-focused 2009-10 season."

Looking Forward concerts will be held at:

STATEN ISLAND: Saturday, October 4, 2008 at 8:00p
St. George Theatre, 35 Hyatt Street, Staten Island
BROOKLYN: Sunday, November 2, 2008 at 4:00p
Whitman Theater at the Brooklyn Center for the Performing Arts on the campus of Brooklyn College (CUNY), 2900 Campus Road, Brooklyn
BRONX: Sunday, November 16, 2008 at 5:00p
Lehman Center for the Performing Arts on the campus of Lehman College (CUNY), 250 Bedford Park Boulevard West, Bronx
QUEENS: Saturday, March 7, 2009 at 8:00pm
LaGuardia Performing Arts Center on the campus of LaGuardia Community College (CUNY) 31-10 Thompson Avenue, Long Island City, Queens
MANHATTAN: Saturday, April 11, 2009 at 8:00pm
Alice Tully Hall, Lincoln Center 65th Street and Broadway, Manhattan



Opera Matters, another initiative to bring opera into the lives of New Yorkers, is a series of lively talks and panel discussions, enhanced by live music, film, and other media. Curated by City Opera Dramaturg Cori Ellison, this series aims to place opera squarely at the center of today's culture. Opera Matters programs will include:

Cinematic Opera/Operatic Cinema - A co-presentation with The Film Society of Lincoln Center, this four-part series examines the mutual influences and close relationship between these two vital art forms. The series, beginning on Saturday, November 1, takes place at the Walter Reade Theater in Lincoln Center, and comprises three film screenings followed by lectures, culminating in a panel discussion featuring world-famous film directors who have also directed operas.
The Sounds of Literature - A co-presentation with the "Live from the NYPL" series at the New York Public Library (42nd St & Fifth Ave), this multi-part series of programs, beginning in November presents creative vistas on the remarkable intersection of words and music.

Opera, Pop Culture & Mass Media - In this co-presentation with The Paley Center for Media on Thursday, April 23, top media critics, opera experts, and advertising moguls screen clips and discuss opera's pervasive and enduring presence and meaning in popular media including TV shows, cartoons, commercials, the Internet, video games, music videos, and satellite radio.

In honor of Black History Month, City Opera co-presents

Black History at NYCO

with the

Schomburg Center for Research in Black Culture.

Beginning Wednesday, January 28,

we

celebrate the important African-American works and artists who have graced City Opera's stage in three commemorative programs featuring discussion, live performance, special guests, and historic slides and audio and video clips.

On the heels of City Opera's most successful

VOX Showcase of American Composers

, which was attended by more than 2,000 people last year, the company is thrilled to announce the 10th-Anniversary Showcase scheduled for May 2009, at which point City Opera will have presented 100 total new American operas. In addition to excerpts from new American operas featuring City Opera casts and orchestra, VOX will include panel discussions and a master class for singers in contemporary music. VOX 2009 submissions will be received June 1 through September 1, 2008. Details on selected works, composers and casting will be announced in 2009.

BIOS

City Opera Music Director

George Manahan

made his City Opera debut conducting

Die tote Stadt

in 1991. In his tenure at City Opera, he has conducted 53 different operas including two world premieres, four US stage premieres and forty-one new productions including but not limited to:

Margaret Garner

,

Cavalleria rusticana

,

Pagliacci

,

Cendrillon

,

Madama Butterfly

,

Falstaff

,

Candide

,

L'elisir d'amore

,

La donna del lago

,

Capriccio

,

Il viaggio a Reims

,

The Mines of Sulphur

,

Lysistrata

,

Il trittico

,

Little Women

,

Flavio

,

The Flying Dutchman

,

Xerxes

,

Intermezzo

,

The Cunning Little Vixen

,

Emmeline

,

Macbeth

,

La finta giardiniera

,

Mourning Becomes Electra

,

Ermione

,

Lizzie Borden

,

La bohème

("Live from Lincoln Center" telecasts). Elsewhere, he has conducted

Rigoletto

,

Falstaff

, and

L'Italiana in Algeri

at Glimmerglass Opera; premieres at Santa Fe Opera including

Modern Painters

and

A Night at the Chinese Opera

; productions at Seattle Opera, Opéra National de Paris, Lyric Opera of Chicago, Opera Australia, and Opera Theatre of Saint Louis; concerts with San Francisco Symphony, New Jersey Symphony, National Symphony, Atlanta Symphony, Minnesota Orchestra, and Verona Filarmonica; recordings include

Desire Under the Elms

with London Symphony Orchesta (Grammy nomination).

***

Soprano

Lauren Flanigan

most recently sang the title role in Samuel Barber's

Vanessa

at City Opera. Originally from San Francisco, California, she made her City Opera debut as Musetta in

La bohème

in 1991. Since then, she has been a regular City Opera favorite singing lead roles in:

Mourning Becomes Electra

,

Macbeth

,

Lilith

,

Central Park

,

The Mother of Us All

,

Intermezzo

,

Lizzie Borden

,

The Seven Deadly Sins

,

The Turn of the Screw

,

Mathis der Maler

,

Esther

(world premiere),

Roberto Devereux

, and

Die tote Stadt

. Other performances at La Scala, Teatro San Carlo, Metropolitan Opera, Glyndebourne, San Francisco Opera, Bayerische Staatsoper, American Symphony Orchestra, Orpheus Chamber Orchestra, San Francisco Symphony, Brucknerhaus Orchestra, Rotterdam Philharmonic, Santa Fe Opera, and English National Opera; live recording of Richard Strauss'

Die Liebe der Danae

(Telarc), Howard Hanson's

Merrymount

, Symphony #6 by Philip Glass; DVD Opera Diva

Death to Smoochy,

Abigaille

Nabucco.

Winner of City Opera's Diva Award and Betty Allen prize.

***

New Zealand baritone

Teddy Tahu Rhodes

makes his City Opera debut as Antony. Most recently, he sang the role of Ned Keene in

Peter Grimes

at the Metropolitan Opera in his debut. Other appearances include opera engagements in San Francisco, Houston, Dallas, Washington, Munich, Hamburg, the Chatelet, Paris, Welsh National Opera and Scottish Opera to his credit . Future engagements include Count Almaviva in Cincinnati, Don Giovanni for Opera Australia, Henze's

L'Upupa

for Hamburg Opera, Lescaut in Leipzig, and Billy Budd in both Santa Fe and Sydney.

****

New Zealand Tenor

Simon O'Neill

made his City Opera debut in 2003 as First Armed Man in

Die Zauberflöte

. Most recently, he sang the role of Siegmund in

Die Walküre

at the Metropolitan Opera and at the Royal Opera House, Covent Garden. Other credits include: title role of

Parsifal

in Rome at the Accademia di Santa Cecilia. Future seasons see him in the title role of

Lohengrin

at Houston Grand Opera and Covent Garden, Siegmund in

Die Walküre

at the Royal Opera House, Covent Garden, La Coruna Festival and Hamburg State Opera,

Parsifal

at Barcelona's Teatro Liceu and in his Opera Australia debut as Sergei in Shostakovich's

Lady Macbeth of Mtsensk

.

***

Bass-baritone

David Pittsinger

made his City Opera debut in the title role in

Don Giovanni

in 2001. A native of Hartford, Connecticut, he returned to City Opera to sing the title role in

Le nozze di Figaro

and Zoroastro in

Orlando

. Other career highlights include Carlo V in

Don Carlo

, and Colline in

La bohème

at Metropolitan Opera; Count Almaviva at Los Angeles Opera; Cadmus/Somnus in

Semele

in Paris; title role in

Don Quichotte

at Vienna's Theater an der Wien; Olin Blitch in

Susannah

at Opera Company of Philadelphia; Mephistopheles in

Faust

for Geneva, L'Opéra de Montréal, Italy's Macerata Festival, Vancouver, Calgary; Nick Shadow in

The Rake's Progress

for Brussels, Lausanne, Hamburg, Paris, Bordeaux; Tiresias in

Oedipus Rex

at Teatro San Carlo, and Count Rodolfo in

La Sonnambula

for Palermo.

***

Sandra Piques Eddy

, mezzo-soprano, originally hails from Cambridge, Massachusetts. She made her City Opera debut as Flora in

La traviata

in 2002. Most recent City Opera engagements have included Dorabella in

Così fan tutte

. Ramiro in

La finta giardiniera

, and Pitti-Sing in

The Mikado

. Other career highlights include Cherubino in

Le nozze di Figaro

with both Canadian Opera Company and Atlanta Opera; Isabella in

L'italiana in Algeri

with Vancouver Opera; Stephano in

Roméo et Juliette

with Hawaii Opera Theatre; the title role in

La Cenerentola

, and soloist in Beethoven's Mass in C, both at Spoleto Festival (USA); and was engaged by the Metropolitan Opera for their performances of

Le nozze di Figaro

and

War and Peace

. In summer of 2008, she sings Romeo in

I Capuleti ed i Montecchi

at Glimmerglass Opera. Her 2008-09 season currently includes singing the role of Page in

Salome

and appearing as soloist in the Opening Night Gala for the Metropolitan Opera; the title role in

La Tragédie de Carmen

with Chicago Opera Theater; the title role in

La Cenerentola

with Austin Lyric Opera; and the roles of Juno and Ino in

Semele

with Florentine Opera.

***

Mezzo-soprano

Laura Vlasak Nolen

made her City Opera debut as Sélysette in

Ariane et Barbe-bleue

in 2005. Originally from Dallas, Texas, she returned to City Opera as Malcolm in

La donna del lago

. Most recently, she returned to the Metropolitan Opera in 2007-08 as Waltraute in

Die Walküre

, and sang Tisbe in

La Cenerentola

at Spoleto Festival (USA). She performed Haydn's

Mass in Time of War

with The Washington Chorus at the Kennedy Center; Beethoven's Mass in C with the Honolulu Symphony; Dvořák's Stabat Mater with the Bel Canto Chorus and Orchestra; and appeared as Isabella in

L'italiana in Algeri

in gala concerts sponsored by UNESCO in Paris, France and New York City. In summer of 2008, Ms. Nolen will sing the title role in

Giulio Cesare

at Glimmerglass Opera. In 2008-09 she returns to the Metropolitan Opera to reprise the role of Waltraute in

Die Walküre

as well as to sing Inez in

Il trovatore

, appears as Dorotea in Pedrotti's

Tutti in maschera

at Wexford Festival Opera, and as Suzuki in

Madama Butterfly

with Dallas Symphony Orchestra.

***





Blogs / Bloggers: " They are the community civic spirt and love. "

David Banner's Single "Get Like Me" Heats up Radio Airwaves
The Second Single from His New Album Features Chris Brown and Young Joc
The Greatest Story Ever Told
In-Stores July 15th
NEW YORK (Billboard Publicity Wire via Business Wire EON) July 15, 2008 -- Preceded by a major hit on the airwaves, the long awaited album The Greatest Story Ever Told, by one of hip-hop's most impressive multi-talents, SRC/Universal Motown recording artist David Banner, is set to go in-stores on July 15th.
The self-produced single "Get Like Me," with featured guest stars Chris Brown and Young Joc, made a nine-point jump this week to a bulleted No. 15 on Billboard's Hot R&B/Hip-Hop Songs. It is also No. 4 on Hot Rap Tracks and bulleting at No. 24 on the Billboard Hot 100 national singles chart and the track is continuing to build momentum in every format: "Get Like Me" is a bulleted no. 3 at rhythmic/crossover radio, and also rising to No. 15 among the country's urban-formatted stations. The song is advancing in mainstream Top 40, with major new radio adds on both coasts.
The Greatest Story Ever Told includes the previously-released track "9MM" (also known as "Speaker") featuring Akon, Snoop Dogg and Lil Wayne, received a million-stream hit on Banner's MySpace.com page, as well as collaborations with Lil Wayne on "Shawty Say," UGK, Kandi Burrus and Young Dro on "Suicide Doors," Chamillionaire on "Ball With Me," Jazze Pha on "Fly," and Carl Thomas on "I Get By." Joining Banner in the production slot on various album tracks are Lil Jon, Akon, Cool & Dre, and Nitti.
David Banner's chart debut Mississippi: The Album topped the Billboard R&B/Hip-Hop album chart, and peaked at No. 9 on the Billboard Top 200 in 2003. 2005's Certified was a No. 3 R&B/Hip-Hop album, and No. 6 Billboard Top 200 album. His classic Top 5 R&B/Hip-Hop single "Play" is certified gold by the RIAA. David Banner has also collected a string of high-profile production credits for Lil Wayne, Nelly, T.I., Chamillionaire, Snoop Dogg, Young Buck and Ludacris.
Banner's acting credits include the acclaimed independent film Black Snake Moan and the 2007 hit, This Christmas. He is the voice, executive producer and score composer of the Cartoon Network's "Adult Swim" series Crook'd Sipp. Banner is also featured in the upcoming film Days of Wrath and episodes of the television series Monk.
David Banner's foundation and concert, Heal the Hood, raised over $500,000 for the relief of Hurricane Katrina victims in the wake of the Gulf Coast disaster. In September 2007, Banner testified before the U.S. House of Representatives Subcommittee on Commerce, Trade, and Consumer Protection, chaired by Rep. Bobby Rush (D-IL), to address issues of language and images in video games, hip-hop music, music videos and popular culture, arguing against the censorship of hip-hop.
Tupac Still Breathin Tour Promoter Seeking Dates & Lawz Launch New Video Highlighting International Shows & Performances with Pac

Featuring Young Buck and The Outlawz-Tupac Still Breathin Tour promoter is reaching out to domestic and international talent bookers & Lawz launch new video promoting New We Want In LP

Atlanta (Billboard Publicity Wire) July 18, 2008 -- Trea Day Management & Publicity recently announced to US and international promoters and venues that they are seeking dates to add on the "Tupac Still Breathin" Tour featuring the legendary Outlawz and Cashville's Young Buck. The popular recording artists are currently slated to perform for audiences from Detroit to Tanzania and Australia. Interested show organizers should contact Trea Davenport at 678.470.4930.

Tupac Still Breathin Tour Starring Young Buck & Outlawz

In support of the Outlawz We Want In (Gold Dust Media/1 Nation) LP, set to drop on August 5th, the Tupac protégés just launched their latest video; "Everything Happens 4 A Reason". Director James Wade highlights many of Lawz most popular live shows and performances with Pac.

Young Buck and the Lawz will also promote their new Cashville Takeover Mixtape on the "Tupac Still Breathin" Tour. As independent artists, the Outlawz are constantly on the grind, in the lab and on stages around the world. They have been featured in top music publications from XXL and Source to Murder Dog and Scratch, earning honors as underground legends and boasting a discography that includes some of the most successful rap albums including; All Eyez On Me, Still I Rise, 2 Pac & Outlawz, Better Dayz, and Makaveli.

To Book the "Tupac Still Breathing Tour" contact: Treavion Davenport (Trea Day Management and Publicity) at 678.570.4930.

For information regarding the distribution of We Want In, contact USA Media Director, Stephen Boles (Gold Dust Media) at 718.722.9935.

For More on the Outlawz and We Want In Music News Check Out:

Official Outlawz Myspace
Official Young Noble Myspace
Official EDI Mean Myspace
Official Stromey Myspace
Gold Dust Media Myspace
Trea Day Management & Publicity


Community Service Projects:
The Magic of the Internet working to raise consciousness.
Take Back The Night, RMC ~ New York City, New York
: The next step in providing a platform of change aaand service focus within those business operations who are nightlife events or nightclub venues providers. Especially to replace the tacky and thoughtless cheap promotionals of " Ladies Night."