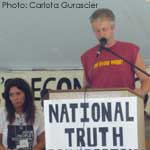 Ithaca's labor Leader: Pete Meyers.
Press Conference: Hotel Workers Detail Human Rights Abuses at Local Hotels, Friday, 11/9 @ 3 p.m. at Hilton Garden Inn Hotel, Ithaca--WE NEED YOUR HELP!


The Tompkins County Workers' Center has embarked on a critical campaign that is keenly focused on organizing with the workers that are most directly affected by low wages; lack of health care; lack of the ability to organize for ourselves in the workplace; a lack of worker's rights; and a lack of simple free speech.
We have met with numerous hotel workers in the past few months from various hotels throughout Tompkins County and are convinced that there is a serious problem taking place in our local hotel industry. One woman who has ben a leader amongst workers at a specific hotel (and would have clearly been the union steward if there were a union) was recently terminated for expressing the need for a union in the face of management abuses. The Workers' Center, along with this worker, recently filed a charge with the
National Labor Relations Board
.
The Press Conference that we are asking you to attend on November 9th at 3 p.m. in front of the
Hilton Garden Inn Hotel in Ithaca (corner of Seneca and Tioga Sts.)
will feature the woman mentioned above speaking about her firing, along with a few other workers. We need your support. Freedom of speech is under threat in the country, as you know. And such freedom of speech and the right to organize is practically dead in our workplaces. We intend to change this, with your help.
To learn more about our Hotel Workers Human Rights Campaign,
see our Fact Sheet.
To sign our Pledge that states that you believe that people working hotels deserve a Living Wage, and that you commit "to make every effort to patronize Tompkins County hotels that pay their employees a Living Wage, and will encourage family and friends to do the same",
click here.
"As long as there is a lower class, I am in it.
As long as there is a criminal element, I'm of it.
As long as there is a soul in prison, I am not free."

-Eugene Debs

"The seed of our unhappiness lies in our wish
                                                to control how things will be".Roger Rosenbaum