The European Sports Network, RMC

Network Headquarters Ithaca, New York.

Prague Sports Network, RMC

.



Zdenek Grygera

Copenhagen Sports Network, RMC

London Sports Network, RMC

France

Paris Sports Network, RMC

Athens Sports Network, RMC

Germany

Berlin Sports Network, RMC

Luxembourg

Luxembourg Sports Network, RMC

Norway

Oslo Sports Network, RMC

Poland

Gdansk Sports Network, RMC

Russia

Moscow Sports Network, RMC

Spain

Spain Sports Network, RMC

Barcelona Night Life ( NightLife ), RMC

Ukraine

Kiev Sports Network, RMC

S__P__O__R__T__S L__E__G__E__N__D__S.

| | |
| --- | --- |
| | |
| | Product Info |

Welcome to the Night Life ( NightLife ), RMC OnLine Sports Internet Network. This is the Sports Page Cultural Sectionals of an Inter - City Cultural Communications web site program between various cities and Ithaca, New York. Ever since two female grad students of Cornell University made a suggestion back in the Fall of 2004, alot has changed since I posted my firt NightLife online publication - Ithaca Night Life, NY, which since has changed to both Ithaca Night Life ( NightLife ), NY and www dot ithacanightlife dot com.

S__P__O__R__T__S N__E__W__S AT A GLANCE:

England to host 2007 European Hockey championships

***

England Hockey today announced that it had been awarded the hosting of both the men's and women's 2007 European Hockey Championships by the European Hockey Federation (EHF). The event will be held at Belle Vue, Manchester City Council's legacy facility from the 2002 Commonwealth Games, between 18th and 26th of August 2007 and will feature the top eight men's and top eight women's teams within Europe. The event is a direct qualification route to the 2008 Beijing Olympics.

The bid was secured with financial support from each of UK Sport, Manchester City Council, and the Northwest Regional Development Agency (NWDA) who will be working in partnership with England Hockey in the running of the event. Discussions will now commence with potential broadcasters, and England Hockey will begin their sponsor search.

Commenting on the news, England Hockey's Executive Chairman Philip Kimberley said: "This is absolutely fantastic news as it will be the biggest event hockey will have staged in England since the 1986 World Cup, and will enable us to continue raising the profile of our wonderful sport. I'm particularly delighted for the teams, as it will enable them to perform at home in front of their fans.

"This bid has taken us over six months of hard work to prepare and submit to the various stakeholders and I'm particularly grateful to UK Sport, Manchester City Council, and the NWDA for their positive engagement with us in securing it, and for the financial support they have committed. We look forward to working with them all over the next 18 months. Last but not least, we hope that this will be the first of a number of major international events that we will be hosting in the run up to the London 2012 Olympics."

England Hockey's Performance Director, David Faulkner commented: "I was privileged to be part of the 1986 World Cup team so for me this really does mean Hockey's Coming Home!"

UK Sport's International Director John Scott added: "UK Sport is delighted to be contributing up to £262,000 from its Lottery funded World Class Events. Programme towards the costs of staging the 2007 European Hockey Championships. The event will be held at a crucial time in the Olympic calendar, with qualification places at stake for the 2008 Beijing Olympics. It will also offer our teams a fantastic opportunity to gain international experience in front of a home crowd."

Manchester City Council's Richard Leese said: "Manchester welcomes the announcement that it will stage the men's and women's European Hockey Championships in 2007. Manchester is cementing its reputation as a first class venue for major international sports events and testimony to this is the awarding of another prestigious tournament to the city and at such a crucial time in the lead up to the 2008 Beijing Olympics.

"The objective of our Major Events Strategy is to bring world class championships to Manchester and in doing so, support the city's sports development programme. This will ensure that our young athletes achieve their full potential whilst providing benefits and opportunities to the community and local business.

The hockey championships promises to be a great spectator event and we look forward to working with the EHF, England Hockey, UK Sport, and the NWDA in delivering a memorable spectacle for the City of Manchester."

Finally, Peter Mearns, the NWDA's Director of Marketing said: "The NWDA is delighted to have been able to secure the 2007 championships for the Northwest. The NWDA is committed to supporting major events, which play an important role in improving the image of the region as well as making a significant contribution to our economy. The agency is especially pleased to support this event which is expected to attract 30,000 spectators over 9 days."



Open P.R.

Snowboard:

TTR FIVE(5)STAR

OAKLEY ARCTIC

CHALLENGE


Press release from: Ticket To Ride (TTR) World Snowboard Tour

Innsbruck, Austria. Suspense hangs in the crisp Arctic air as Norway prepares to host the world's supreme transition riders at one of the most important happenings on the Ticket To Ride (TTR) World Snowboard Tour, the infamous TTR FIVE(5)STAR event, The Oakley Arctic Challenge, in Midtstuen, Oslo, 26th February- 03rd March, 2007

Located 200m from the legendary Holmenkollen Arena just outside Oslo, The Oakley Arctic Challenge 07 lies at the pinnacle of snowboard progression. Taking shape under the auspices of event owner and TTR patron Terje Haakonsen (NOR), The Oakley Arctic Challenge has taken quarterpipe construction to a higher technical dimension. As part of the safety-bred TTR Quarterpipe Project led by Haakonsen (NOR), the 10m high structure is designed using groundbreaking computer planning software to help eliminate G-force exposure and make the ride is as smooth as possible. Added to this, a huge drop-in ramp at the top of the in-run has been built on top of the natural slope profile - to provide riders with enough speed to showcase their creative streaks, and attempt to quell Heikki Sorsa's (FIN) still unbeaten 2001 World Record, 9.3m air off the coping. With a $50,000USD prize purse, a gold Oakley watch, the event title and up to 850 TTR Ranking Points up for the taking, The Oakley Arctic Challenge promises to be one of the highlight events of the season.

Riders qualified into The Oakley Arctic Challenge based on the current & 05/06 TTR Top Ten, a handful of wildcards, and the Top 3 podium winners of this season's TTR FIVE(5)STAR Chevrolet Grand Prix held in Breckenridge, USA; TTR SIX(6)STAR O'Neill Evolution from Davos, Switzerland; and local contest, Transition Mission, recently run in Varingskollen, Norway. Amongst the 24-man line-up of global present day heroes and stars of the future is reigning event title-holder and TTR World Nr 5, Henning Marthinsen (NOR) fresh from his 2nd place result at recent TTR FIVE(5)STAR event Crans Montana Champs Open; TTR Top Ten American challengers Steve Fisher (USA) & Danny Davis (USA) compete alongside Japan's best including Fumyuki Murakami (JAP), Scandanavian snowboard souls, Miikka Hast (FIN), Kim Rune Hansen (NOR) and, of course, Terje Haakonsen (NOR). Wildcards include Arthur Longo (FRA), winner of TTR FIVE(5)STAR event O'Neill Pro Freestyle in Avoriaz, and the rookie line-up is headed up by12-year-old ripper Dimi De Jong (NED). Each rider will take part in daily warm-up sessions starting Monday through to the climax of Saturday's jam format Finals.

We've got perfect pre-event conditions for construction,' states Henning Anderson, The Oakley Arctic Challenge CEO, 'With cold, stable temperatures, the snow is already in the arena, all the scaffolding is up and Claes Hoegstrom has started shaping. Our in-run will possibly be the largest in competitive snowboarding history - 150m long and 64m in height.

We've got a hell of a rider line-up with a great combination of really strong up-coming transition talent like Arthur Longo and highly experienced riders like Terje.

We are really proud to have such fantastic riders competing in The Oakley Arctic Challenge this year.'

Watch LIVE broadcasting on TacTV available on

www.thearcticchallenge.com

Monday through Friday, the daily scheduled warm-up sessions from noon until 15.00 C.E.T.

The Oakley Arctic Challenge 07 Confirmed Rider List

Terje HAAKONSEN (NOR) BURTONOAKLEY

Henning MARTHINSEN (NOR) NIKEACG

Steve FISHER (USA) HEADSMITH

Kevin PEARCE (USA) BURTONSCOTT

Danny DAVIS (USA) BURTONDRAGON

Mason AGUIRRE (USA) BURTON

Pat MOORE (USA) FORUMFOURSQUARE

Janne KORPI (FIN) ONEILLKISSMARK

Arthur LONGO (FRA) NITROVANSOAKLEY

Gian SIMMEN (SUI) ONEILLSANTACRUZ

Fumyuki MURAKAMI (JAP) FORUM

Takato TANIGUCHI (JAP)

Manuel PIETROPOLI (ITA) BURTONREDBULL

Dimi DE JONG (NED) ONEILLNITRO

Jake BLAUVELT (USA) FORUM

Daniel EK (NOR)

Miikka HAST (FIN) FTWO

Kim Rune HANSEN (NOR) BURTONANON

Dustin CRAVEN (CAN) 32CAPITAOAKLEY

Founded by Terje Haakonsen and industry innovators in 2002, the Ticket To Ride (TTR) World Snowboard Tour is a non-profit, rider-driven organisation that aims to represent the progression of snowboarding. To create a clear rookie-to-pro structure, the TTR World Snowboard Tour is based on global grass root and key independent freestyle snowboarding events. Events are rated via a 1-through-6 Star system, with points allocated accordingly, a 6 Star event holding the highest. Any rider participating in these events, from up-and-coming to professional, will earn TTR Ranking Points and a position on the TTR Ranking List presented by Swatch. The top male and female rider is crowned Ticket To Ride (TTR) World Snowboard Tour Champion.

For further information on TTR, Ranking List, Rider Profiles and Event please contact/click:

TTR: Wendy Woo -

press@ttrworldtour.com

/

www.ttrworldtour.com

Event: John Harald Knutsson -

john@thearcticchallenge.com

/

www.thearcticchallenge.com



OpenPR Photo

Rugby:

Though Rome is famous for its historically rich architecture, it is something else that is has crowds planning to swarm the Italian city in March.

With two important Rugby RBS Six Nations Championship games just a few weeks away, daily interest in Rome hotels has increased 233% between the months of January and February on EuroBookings.com's

www.eurobookings.com

discount hotel booking site.

"Rome is always a popular tourist destination because of the city's history and charm, but with the games next month, the increase interest in Rome hotels has spiked dramatically—which is not uncommon for such a culturally important event," says EuroBookings.com co-owner Marcel Stillekens.

Stillekens says that analysis of EuroBookings.com's website statistics provides a fascinating insight into the collective consciousness of European travelers. With such a large number of visitors from around the world, Stillekens says the website offers a heads up on which events throughout Europe will draw the largest crowds. .

Compared with 2 of Italy's most popular events, the Birth of Rome Celebrations in April and the RomaEuropa Festival starting in September, the RBS Six Nations Championship is driving more interest in Rome hotels and resulting in a greater number of on-site booking conversions. Second only in Rome hotel bookings to the Palio of Rome Final, the annual mega football tournament in April, the buzz suggests that the RBS Six Nations will become one of the hottest events of the year for Rome.

On March 10, Italy's rugby union team will face off against Wales at the Stadio Flaminio and then will go head to head with Ireland on March 17th. With just 7 days between the two heated games, EuroBookings.com web statistics suggest that many travelers will stay in the city to watch both challenges.

EuroBooking.com is designed around the philosophy that by tapping into the collective consciousness of the world traveling community, that business and pleasure travelers can maximize the enjoyment of their experiences. By incorporating consumer critical information and unedited customer reviews into each of its Rome hotels listings

www.eurobookings.com/italy-it/reservations-rome-hotels.html

, the popular discount European hotel booking website has attracted a large share of the traveling audience.

Stillekens says that the most popular hotels are filling up fast, but there are still reservations available close to the Stadio Faminio for rugby fans and those seeking the thrill and excitement of taking part in such a popular event. "If someone is planning to visit Rome, this is the perfect time of year to do it. With so much energy and excitement abound during the championship, there are lots of additional things to do and the city becomes an ideal atmosphere to meet likeminded people," he says.

About EuroBookings.com: EuroBookings.com

www.eurobookings.com

is a Holland-based travel and tourism company that offers deep discount rates on Rome hotels and other popular European hotel destinations. Per it's commitment to its customers and the traveling community, EuroBookings.com offers translation in 13 languages, and charges no reservation fees, no cancellation fees, and no advance payments for trip planners.

EuroBookings.com

Aribana NV

31 611017113

Edo Jansen

10:00 am

Landscaping: How To

BasketBall

The FIBA Europe Executive Committee together with the European members of the FIBA Central Board, the Presidents of various FIBA Europe Commissions and the UBE (European Players Association) have approved an exhibition game that will feature the 2005 EuroBasket champion Greek team taking on a European selection of players.

The game will be held in Greece on either 30 June or 1 July 2007 and will be organised by the Hellenic Basketball Federation.

Theo Papaloukas will be receiving the 2006 FIBA Europe Player of the Year custom-designed trophy during the game.

Clubs and coaches that have demonstrated an emphasis on developing youth talent will also be recognised with special prizes.

The Czech Basketball Federation has expressed an interest in hosting a game that would feature the 2005 EuroBasket Women champion Czech Republic playing a European selection.

"I am pleased that all of the above parties have come to an agreement on hosting the exhibition game in Greece," said FIBA Europe President George Vassilakopoulos.

There is a strong possibility that the same type of game will be held on the women's side."The game will serve as an ideal occasion to honour the top players and teams for their recent achievements."

"The defending European champions for both men and women deserve the right to have this type of opportunity," added FIBA Europe Secretary Nar Zanolin.

"We are fully confident that the Hellenic Basketball Federation, and potentially the Czech Basketball Federation, will organise superb events that will generate significant attention in the lead up to EuroBasket and EuroBasket Women later in the year

A brief history of Cricket World Cup

The first Cricket World Cup was played during 1975 in England. The first three matches were also recognized as Prudential Cup with the sponsorship of prudential plc, it is a pecuniary services company. The cricket matches consisted of 60 overs per players and it was played with established white uniform and with red balls. There were matches held only during day and the event is held ever four years.

Till the 1992 Cricket World Cup, only 8 teams participated in the Cricket tournament. Later on, the numbers of teams were certainly increased and in Cricket World Cup 2007, 16 teams would take part. In 1975, England, New Zealand, India, East Africa, Australia, West Indies, Pakistan and Sri Lanka took participation and during 1979 Canada were replaced by East Africa. In 1983, Zimbabwe made an entry arena and Canada was out of the court. The same teams took part in the 1987 Cricket World Cup.

In 1992, South Africa made an entry in the group and pertaining year 9 teams took part in the Cricket tournament. By the year 1996, the number of teams even increased more up to 12 with the participation of three fresh groups UAE, Netherlands and Kenya. Bangladesh and Scotland were replaced by UAE and Netherlands during 1999 Cricket World Cup.

England successively hosted the first three matches and during 1987 match became the first World Cup to be hosted outside England. Cricket World Cup 1987 introduced unbiased umpires. The 1996 Cricket World Cup started the first look of third umpire in front of the TV monitor.

All the 9 cricket world cup matches played have also contributed more records in the Cricket World Cup History. The records are on most excellent batting strike rate, maximum individual scores, and uppermost run-scorers, top bowling analysis, best bowling financial system rate, finest bowling strike rate, chief wicket-takers, premier team totals, lowest team totals, all major cricket catches and actually the most dismissals.

Though initially the cricket world cup confined the attention of only hundreds of spectators, it has now fascinated millions who are keenly waiting to watch this year's tournament.

Prasanna Moorthy is a cricket coach having intense knowledge in the field. To contact him mailto:prasanna.moorthy@gmail.com and for further cricket updates, info and to buy best cricket equipments visit www.procricketgear.com

Add your content here

Add your content here

Add your content here

Add your content here

Add your content here

Add your content here

 
 
 

Today's Specials

| | |
| --- | --- |
| London, UK, Monday Feb 26, 2007 | |

REAL Madrid are the latest addition to the glittering array of European clubs attending the Servecast New Media Sportscasting Summit at the Emirates Stadium, Arsenal on Thursday March 1.

Real join fellow Spanish giants Barcelona as no fewer than half of the clubs currently competing in the last 16 of the UEFA Champions League will be at the North London stadium.

Other Champions League clubs present are Chelsea, Manchester, Liverpool, Arsenal, Barcelona, Internazionale and Glasgow Celtic.

Sports as diverse as football, horse racing, sailing, basketball, cricket and ice hockey will all be represented at the event.

Darach Deehan, Chief Executive of Servecast, said: "The addition of Real Madrid to our portfolio of clubs is a tremendous coup for the second staging of the Servecast Summit.

"The calibre of clubs, governing bodies and sports broadcasters reflects Servecast's reputation and position as the market leader in the provision of sports new media solutions."

Also representing football are Manchester City, Tottenham, Everton, Watford, Leicester City, Glasgow Rangers, Hearts, Anderlecht, and St Pauli, while in cricket Surrey CCC will be in attendance.

The FA Premier League and the Bundesliga are among the leading European football leagues being represented, along with the International Sailing Federation, International Horse Racing and EuroLeague Basketball.

The Servecast New Media conference will address the critical issues facing sports clubs, organisations and broadcasters with respect to their new media strategies. The conference is centred on the new media landscape for sport and TV, online video search engine strategies, the emerging role of mobile video and the opportunities of integrating online gambling.

The objective of this Servecast conference is to bring together the most experienced and successful practitioners in New Media Sportscasting to share their experiences in growing successful broadband video services including the most effective promotion strategies, recruiting & retaining subscribers, the implications for rights negotiations and how to use video search engines to complement online TV services.

Unlike any other conference, the Servecast New Media Sportscasting Summit attracts the most experienced and successful practitioners in broadband video and mobile video services.

By hosting their annual Summit, Servecast aims to ensure the success of existing & future clients through leveraging knowledge of best business practice for new media sportscasting and facilitating business relationships in the forum of the Summit.

A limited number of delegate places are still available, priced at £290. Further information is available from Kathrina Gallogly on +353 (0) 1 4748013.


About Servecast

Founded in 1998, Servecast is the leading provider of audio and video webcasting solutions for the Sports and Media sectors. Through its proprietary Media Studio platform, Servecast provides access to a fast growing global broadband audience for high value content such as News and Sport thereby generating additional revenue streams for content owners. Servecast is the partner of choice for sports broadcasters such as BSkyB, At The Races and Setanta Sports and facilitates the most commercially successful sports webcasting services in Europe. Servecast customers include Sky Sports, FC Barcelona, Liverpool FC, Manchester United FC, Chelsea FC, Arsenal FC, Rangers FC, the GAA, At The Races and the England and Wales Cricket Board.

For more details contact: Kathrina Gallogly Marketing and Communications Manager Servecast Ltd., http://www.servecast.com Phone: +353 (0) 1 4748013
Fax: +353 (0) 1 4748003 [ ] Paul Mace Managing Director Macesport PR Tel: +44 (0)1159 895421 Fax: +44 (0)1159 402010 paul.mace@macesport.co.uk
ispo

Russia @

Crocus Centre. Moscow Russia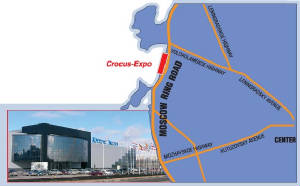 ispo Russia a r__e__p__o__r__t

Extensive accompanying and congress programme provides variety

3rd "International Football and Financial Conference" on 20 - 21 February 2007 with prominent

participa

nts like Lothar Matthäus
New Health & Happy Fitness Zone in the fitness and wellness community

Whether it's gymnastics, the biathlon or ice hockey – when the medals are awarded, Russian athletes are always first in line. The importance of sport to the region along with the enormous potential of the rapidly growing consumer markets in Russia and the surrounding area – for the international sport specialised trade in particular – prompted the organisers of ispo in Munich to venture eastwards and establish a platform there for the international sports equipment and fashion sector. After its successful premiere in the year 2005, ispo Russia developed into the most important sports equipment platform for Russia, Eastern Europe and Central Asia in less than two years, thus generating new impetus for the region. On 19 - 22 February 2007, ispo Russia now takes place for the fourth time at the Crocus Expo Centre in Moscow.

On a total of 11,500 square metres, visitors to the trade fair have the opportunity to examine innovations from the outdoor, board sport, team sport and running areas as well as current products from ski, fitness, bike and racket suppliers. Around 300 brands will be presenting at ispo Russia winter 07. Apart from Blizzard, Craft, EKE, Head, Joy Sportswear and Killtec, brands like Mammut, MDC Sportswear, New Balance, Salewa, Tao Technical Wear, Tatonka, Tecnica, The North Face, Trespass Viking and X-Socks have already confirmed they will be taking part. In contrast to ispo in Munich, the Moscow event is open to sport consumers too for the last day of the fair.

Aside from the product presentations, a varied accompanying and congress programme helps the participants to get to know the special character of the Russian market, to make contacts and get started successfully in business together. On 20 - 21 February 2007, the third "International Football and Financial Conference" takes place. Under the title "Global Sponsoring in Professional Sport", subjects like successful strategies and the prospects of sport sponsoring are discussed by top directors and executives from European football along with marketing specialists from high-ranking sport organisations and large companies such as Deutsche Telekom.

While the first day's speakers – who also include Lothar Matthäus, Germany's former record-breaking footballer – will mainly be attending to the topic of football sponsoring, the following day is planned for a colourful mixture of contributions on promotion strategies in motor sport, skiing, ice hockey, handball and basketball. The presenter at these top-class rounds of discussion is Andrey Simonov, marketing director of FC Dynamo Moscow. Altogether, the organisers are expecting more than 500 participants from the international sports sector.

New at ispo russia is the "Health & Happy Fitness Zone", which is presented by the fitness and wellness community. Apart from training equipment to improve physical fitness, a real oasis of well-being awaits the visitor here. Massages, yoga and relaxation exercises as well as anti-stress and regeneration programmes invite you to relax, ensuring as much refreshment as the wellness drinks mixed at the "Fitness Bar".

Anyone who wishes to do some active sport shouldn't forget their gym shoes on 21 February 2007. As part of "Fitness Day", visitors have the opportunity to take part themselves in fitness courses led by professional trainers. In addition, the pros will be demonstrating their ability in various performance shows. The individual events of the fitness and wellness community will be accompanied by a high-quality seminar programme.
de la revue de avant de garde : This is the news magazine " of the Avant Garde " Ithaca, New York. Moreover, this magazine symbolizes the authentic character of the American Revolution of 1776. fr:/ Ceci est la revue de nouvelles « du Avant Garde » Ithaca, New York. De plus, cette revue symbolise le caractère authentique de la Guerre d'indépendance américaine de 1776
T-F 10:30
This is the MSN Groups Listing for Eruo_Quest_RMC MSN Groups listing European Sports Network, RMC Copenhagen MSNW [] Links [] Euro - Quest Night Life ( NightLife ), RMC [] Athens Night Life ( NightLife ), RMC [] Berlin Night Life, RMC [] Copenhagen Night Life, RMC [] Kiev Night Life, RMC [] London Night Life, RMC [] Madrid Night Life, RMC [] Moscow Night Life, RMC [] Oslo Night Life, RMC [] Paris Night Life, RMC [] Prague Night Life, RMC [] Rome Night Life, RMC [] Euro_Network [] Links [] EuroQuest [] BerlinNightLife [] Gdansk Night Life [] Kiev Night Life, RMC [] London Night Life ( NightLife ), RMC [] Madrid Night Life [] Moscow NightLife [] Oslo NightLife, RMC [] Paris NightLife [] Paris NightLife, RMC [] Links [] Moscow [] Sergiyev Posad [] Obninsk [] Podolsk [] Zhukovsky [] Klin [] Ramenskoye [] Serpukhov [] The Index / Home Page Athens .[] Berlin []. Copenhagen []. Gdansk []. Kiev [] . London []. Academia - London [].Madrid [].Moscow [].Oslo [] Paris [] Prague []. Rome [] The Big " Links " Page [] International Students / Scholars Intercultural Communications Resources :and Promtions [] EuroSphere Host of Nations [] Links Page - []
Enter subhead content here