Mozart and Massenet, Gershwin and Bizet, Wagner and Puccini,
Verismo and Expressionism – Lyric's got it all!!
for Lyric Opera of Chicago's 2008 - 2009 season! www.lyricopera.org or 312-332-2244, ext. 5600
Whether you're a seasoned operagoer or a curious newcomer, whatever your tastes in theater and music, Lyric Opera of Chicago has something exciting for you to experience this season!
Subscriptions are still available, and now individual tickets are on sale for all eight operas in Lyric's 54
th season, which starts Sept. 27 and runs through Mar. 28. Visually magnificent productions and a broad range of orchestral-vocal music performed at the highest level – without amplification – tell the tales of the young and the restless, the impulsive and impetuous, the doomed and the drugged, the mismatched and the murderously jealous, the heroic and the heinous, the unrequited and the unrepentant…and more! English translations are projected above the stage for every opera.
Massenet's romantic tragedy
Manon
stars
Natalie Dessay
and
Jonas Kaufmann
in the breathtaking
David McVicar
production;
Emmanuel Villaume
, conductor (Sept. 27-Oct. 31 – 11 performances).
Bizet's exotic love triangle,
The Pearl Fishers
, stars
Nicole Cabell, Eric Cutler
, and
Nathan Gunn
;
John Mauceri
, conductor (Oct. 6-Nov. 4 – 9 performances).
Alban Berg's harrowing drama
Lulu
stars
Marlis Petersen
and
Wolfgang Schöne
in a new production by
Paul Curran
;
Sir Andrew Davis
, conductor (Nov. 7-30 – 7 performances).
Gershwin's brilliant
Porgy and Bess
, full of songs made famous by pop singers over the decades, receives its long-awaited Lyric premiere in a riveting
Francesca Zambello
production with two
exceptional casts;
John DeMain
, conductor (Nov. 18-Dec. 19 – 13 performances).
Puccini's
Madama Butterfly
– perhaps
the
most popular opera in the repertory – stars
Patricia Racette
and
Frank Lopardo
in the beautiful
Harold Prince
production;
Sir Andrew Davis
, conductor (Dec. 13-Jan. 29 – 11 performances).
Wagner's
Tristan und Isolde
stars
Deborah Voigt
and
Clifton Forbis
as the doomed lovers in the vivid
David Hockney
production;
Sir Andrew Davis
, conductor (Jan. 27-Feb. 28 – 9 performances).
The often-paired one-act potboilers, Mascagni's
Cavalleria rusticana
and Leoncavallo's
Pagliacci
(the original "tears of a clown") bring all the passions and tensions of Italian village life to the fore, with double-cast stars including
Mark Delavan, Vladimir Galouzine, Ana María Martínez, Vincenzo La Scola, Carlo Ventre, Guang Yang,
and
Dolora Zajick
;
Renato
Palumbo
, conductor (Feb. 14-Mar. 27 – 10 performances).
And Mozart's bittersweet comedy,
The Abduction from the Seraglio
, stars
Erin Wall, Matthew Polenzani, Andrea Silvestrelli, Aleksandra Kurzak,
and
Steve Davislim
in a new production by
Chas Rader-Shieber
;
Sir Andrew Davis
, conductor (Mar. 2-28 – 9 performances).
Donald Nally
is chorus master for all production except
Lulu
, which does not have a chorus. Nally will conduct the first-ever concert by the Lyric Opera Chorus,
"Holly and Ivy,"
at 3 p.m. on Sunday, Dec. 14, in the Ardis Krainik Theatre of the Civic Opera House. Lyric's music director,
Sir Andrew Davis
, will accompany some works on organ and will play some solo organ pieces.
Craig Terry
will accompany other works on piano.
Lyric Opera of Chicago
's 54th season runs Sept. 27 through March 28 at the Civic Opera House, 20 N. Wacker Dr. Brochures may be requested and single tickets may now be purchased by going to www.lyricopera.org (24 hours a day), or by calling
312-332-2244, ext. 5600
(M-F, 9-5; Sa. 10-5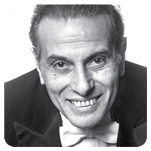 [ Memorial Press Release ]
NICOLA RESCIGNO
May 28, 1916, New York City – August 4, 2008, Viterbo, Italy
Conductor and Cofounder,
Lyric Opera of Chicago and The Dallas Opera
Italian-American conductor Nicola Rescigno, 92, a cofounder of Lyric Opera of Chicago 54 years ago, has died of complications following heart failure in a hospital in Viterbo, Italy (near Rome), after suffering a fall. Rescigno subsequently cofounded The Dallas Opera, where he was artistic director for more than three decades.
"Nicola Rescigno, in collaboration with Carol Fox and Lawrence Kelly, made a huge contribution to musical life in this city with the founding of The Lyric Theatre of Chicago
in 1954," said Lyric Opera General Director William Mason. (The company's name
changed to Lyric Opera of Chicago in 1956.) "He was a remarkable conductor with an
impeccable sense of style, who came to the Italian repertoire literally to the manner born. At Lyric, as well at The Dallas Opera and other major companies, he maintained exceptionally high musical standards. He was renowned for his ability to bring out the best in singers, who adored performing with him. All of us at Lyric were very pleased when he accepted our invitation to be a 'Jubilarian,' that is, a special honoree for our
50th-annivesary season in 2004-05."
Rescigno was the son of an Italian father, a professional trumpeter who had resettled in America and who performed in the Metropolitan Opera orchestra. The younger Rescigno had particularly distinguished teachers: the composers Ildebrando Pizzetti and Vittorio Giannini, and the conductor Giorgio Polacco. He made his conducting debut with
La traviata
at the Brooklyn Academy of Music in 1943 with this country's most famous touring opera company of that era, the San Carlo Opera. In 1950 and 1951 he conducted at San Francisco Opera, leading
Il barbiere di Sivig
lia and
Madama Butterfly
. He also served for a time as music director of both Connecticut Opera and Havana Opera before opportunity knocked in Chicago, thanks to Carol Fox and Lawrence V. Kelly.
Rescigno joined Fox, a young singer, and Kelly, a businessman, to found The Lyric Theatre of Chicago. Serving as artistic director and principal conductor, Rescigno was on the podium for the famous "calling-card" performances of
Don Giovanni
in February 1954. During the inaugural season he led 12 performances of seven operas (
Norma, The Taming of the Shrew, Il barbiere di Siviglia, La traviata, Lucia di Lammermoor, Tosca
) and, in 1955, 22 performances of eight operas and three ballets (
I puritani, Il trovatore, Madama Butterfly, Rigoletto, Il ballo delle ingrate, Il tabarro
, a ballet version of
The Merry Widow, Lord Byron's Love Letter
,
Revanche, Un ballo in maschera
).
Following Lyric's 1955 season, Rescigno did not return to Lyric until 1974, when he conducted six performances of Donizetti's
La favorita
. He also conducted eight performances of Rossini's
La Cenerentola
in 1976, bringing his total Lyric performances to 50. Among the singers with whom he collaborated during his Lyric years were Maria Callas (who made her American debut in the 1954 opening-night
Norma
), Eleanor Steber, Giulietta Simionato, Carlo Bergonzi, Jussi Björling, Giuseppe di Stefano, and Tito Gobbi.
After a dispute in which The Lyric Theatre board of directors sided with Fox, Rescigno and Kelly left Chicago, founding The Dallas Opera in 1957. Again Rescigno took on the duties of artistic director and principal conductor, opening his first season with Callas in aspecial concert, followed by
L'italiana in Algeri
starring Giulietta Simionato. He presented the American debuts of such major artists as Joan Sutherland, Magda Olivero, Montserrat Caballé, Teresa Berganza, Plácido Domingo, and Jon Vickers. Among the American premieres led by Rescigno in Dallas were Handel's
Alcina
(with Sutherland) and Vivaldi's
Orlando furioso
(with Marilyn Horne), the first staged performance of a Vivaldi opera in America. In 1988 Rescigno conducted the world premiere of a highly praised American opera, Dominick Argento's
The Aspern Papers
with Frederica von Stade andElisabeth Söderström, which was telecast by PBS.
Following Kelly's death in 1974, Maestro Rescigno was given the title of general director in Dallas. He returned to being exclusively artistic director following the appointment of Plato Karayanis as general director three years later. Rescigno ended his association with The Dallas Opera in early 1990, but continued to accept guest-conducting engagements.
The Metropolitan Opera welcomed Rescigno to its podium for the first time in 1978, when he led the premiere of a new
Don Pasquale
featuring Beverly Sills, which was later telecast. He returned to the Met for
L'elisir d'amore
(including a telecast with Luciano Pavarotti),
L'italiana in Algeri,
and
La traviata
. Rescigno returned to San Francisco Opera in 1984, 34 years after his debut there, to conduct von Stade in
La sonnambula.
In 1986 he led the company's concert starring Caballé and Horne. He appeared widely in Italy and also led performances at Covent Garden, Glyndebourne Festival Opera, theZürich Opernhaus, and the Teatro Colón in Buenos Aires.
Mo. Rescigno recorded several operatic recitals with Maria Callas, and their 1959 Hamburg concert has been released on DVD. Many live performances by the pair have circulated widely for many years, including legendary performances of
Medea
(Dallas) and
Traviata
(Covent Garden). Among Mo. Rescigno's commercial recordings are excerptsfrom
Francesca da Rimini
with Magda Olivero and Mario Del Monaco, Fedora with thesame two singers,
Tosca
with Mirella Freni, Luciano Pavarotti, and Sherrill Milnes,
Luciadi Lammermoor
with Edita Gruberova and Alfredo Kraus, and operatic recitals by
sopranos June Anderson and Ruth Ann Swenson.
Mo. Rescigno's survivors include his companion of 40 years, Aldo Marcoaldi; his twosisters, Rita Pignatelli and Dolly Di Napoli (both of New York); and ten nieces andnephews, including Joseph Rescigno, a well-known American opera conductor who is artistic advisor and principal conductor of the Florentine Opera of Milwaukee.
###
CHICAGO OPERA THEATER, HARRIS THEATER FOR MUSIC AND DANCE, MILLENNIUM
PARK, AND MILLENNIUM PARK, INC. TO PRESENT FIRST-EVER FREE LIVE SIMULCAST PRESENTATION OF AN OPERA IN CHICAGO HISTORY, FRIDAY, MAY 9, 2008
Chicago Opera Theater's contemporary production of Don Giovanni to be projected direct from the Harris Theater to the stage of the Pritzker Pavilion
for up to 11,000 free audience members in both seats and on the Great Lawn under the trellis
Major funding for the simulcast provided by The Boeing Company
Chicago, April 9, 2008 – Chicago Opera Theater (COT), the Harris Theater for Music and Dance, Millennium Park, and Millennium Park Inc. today announced a cultural milestone for the City of Chicago - the first outdoor, large screen, live simulcast presentation of an opera in the city's history. On Friday, May 9 at 7:30pm, Millennium Park will offer a FREE and LIVE broadcast of Chicago Opera Theater's presentation of Mozart's most beloved opera, Don Giovanni, direct from the Harris Theater to the stage of the Jay PritzkerPavilion. An audience of potentially 11,000 viewers will be able to see this contemporary rendition of Don Giovanni live under the stars from both the seats and the Great Lawn of Millennium Park.
By presenting the first live simulcast of an opera in Chicago, through this public / private partnership, Chicago will now join the visionary ranks of a select list of other opera institutions in major cities in the United States which have presented live simulcast presentations of operas, including The Metropolitan Opera in New York City, the Houston Grand Opera, the Washington National Opera in Washington, D.C. and the San Francisco Opera.
"We at Chicago Opera Theater believe passionately that opera is the most thrilling of all art forms, and we are delighted to be the first company in Chicago to present a live broadcast of an operatic masterpiece from our home at the Harris Theater into Millennium Park," said Chicago Opera Theater General Director Brian Dickie.
"It's thrilling to be a part of Chicago history," said Michael Tiknis, President and Managing Director of the Harris Theater. "We are pleased to collaborate with Chicago Opera Theater and Millennium Park in order to bring opera to residents of the City of Chicago and beyond. As the Harris prepares to celebrate its Fifth Anniversary season, this is a fantastic opportunity for the Theater and our partner organizations to join the group of nationally-recognized cultural leaders working to grow and diversify opera audiences."
"Since its inauguration in July 2004, Millennium Park has become an internationally-renowned destination for year-round cultural programming for residents of Chicago, the surrounding community, and those visiting the city," said Lois Weisberg, Commissioner of the Chicago Department of Cultural Affairs. "The City of Chicago is proud to continue to present superlative programming free of charge to Chicagoans. The first-ever live opera simulcast in the Jay Pritzker Pavilion will place Chicago in the company of other leading cultural cities in the United States and is a testament to our continued commitment to making the arts accessible to all."
John H. Bryan, Chairman Millennium Park, Inc. said "Millennium Park, Inc. is very pleased to help make possible the first–ever live free simulcast of an opera in Chicago history. The Jay Pritzker Pavilion in Millennium Park is one of the most sophisticated outdoor music venues in the world. Through simulcasts like this we are able to extend the outdoor performance season and bring more free cultural programming to the people of Chicago and visitors from around the country and around the world."
Chicago Opera Theater specializes in fresh interpretations of classic operas in order to make the story as universal and relatable as the day it was first performed hundreds of years ago. Don Giovanni is no exception, taking place in a modern day, decadent nightclub where the themes and characters are easily familiar to a contemporary audience.
Don Giovanni marks the completion of Mozart/da Ponte operas from the team of Jane Glover and Diane Paulus after their acclaimed COT productions of Cosě fan tutte (2002) and Le nozze di Figaro (2005). Creating this exclusive and fashionable world of Don Giovanni is set designer Riccardo Hernandez, costume designer David Woolard, and lighting designer Aaron Black.
Making his American debut as Don Giovanni is Iain Paterson, one of Europe's leading young bass-baritones. The cast also includes Matt Boehler (Leporello), Michael Colvin (Don Ottavio), Rhoslyn Jones (Donna Anna), Andrew Funk (Commendatore), Isabel Leonard (Zerlina), Krisztina Szabó (Donna Elvira), and Ben Wager (Masetto).
Utilizing the backstage space shared by the Harris Theater and Pritzker Pavilion, the Don Giovanni cast will grace the Pritzker Pavilion stage immediately after the show to take their bows in front of the thousands in Millennium Park.
Bruce Bryant of Ghost Ranch Films will serve as director for the Don Goivanni simulcast production. Bryant has directed similar simulcasts for Houston Grand Opera, as well as the televised simulcast of Porgy & Bess for the Washington National Opera at the Kennedy Center and the television simulcast of the San Francisco Opera's production of Madamé Butterfly.
Using state-of-the-art technology, two 20,000 lumen DLP projectors will provide a stunning visual reproduction of the images from inside the Harris Theater onto an 18' x 32' screen which will be positioned on the stage of the Jay PritzkerPavilion, utilizing approximately 20% of the opening space on the Pritzker stage. Six cameras will record the action from the Harris stage and fiber optic equipment will link the transmission from the Harris Theater to the screen on the Pritzker stage. The production will be sung in Italian with large-scale English subtitles projected onto the screen. The Jay Pritzker Pavilion's revolutionary two part sound system will provide clarity and amplification along with acoustic enhancement resulting in a three-dimensional auditory experience. The concentric arrangement of speakers on the overhead trellis and timed digital delays will create the impression that the sound is arriving to the audience from the stage, rather than the speakers.
Major funding for the simulcast provided by The Boeing Company.
For more information about the live simulcast broadcast, visit www.millenniumpark.org or www.ChicagoOperaTheater.org or www.harristheaterchicago.org.
Opera is now growing in Chicago.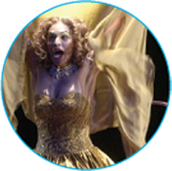 Chicago Opera Theatre Blogs, Bloggers and Forums: