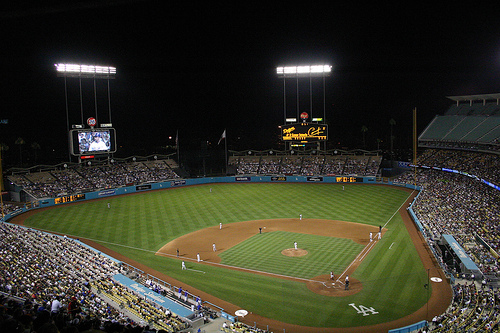 Dodgers announce 2007 television schedule; KCAL 9, FSN Prime Ticket lead local telecasts

LOS ANGELES -- The Los Angeles Dodgers will divide their regular season local broadcasts during the 2007 schedule between KCAL's telecast of 50 games and FSN Prime Ticket's airing of 100 games, the team announced Friday.

For the first time, KCAL 9 HD plans to deliver all 50 of its regular season broadcasts in high definition, beginning on Friday, March 30 when the Dodgers host the Angels at Dodger Stadium during the annual Freeway Series. FSN PRIME TICKET will announce its Dodgers HD game telecast schedule later this month.

In addition to the KCAL and FSN PRIME TICKET airdates, the Dodgers will appear on national/regional telecasts, including FOX Saturdays and ESPN Sunday night games. Currently, the national/regional telecasts include FOX Saturday games against the Giants (April 7, July 14, Sept. 8), Cubs (May 26), Angels (June 16), Mets (July 21, Aug. 25) and Cardinals (Aug. 11), with additional games still to be announced. ESPN's Sunday Night Baseball coverage currently includes the game of April 15 against the Padres, with additional games to be determined.

"The addition of high definition to many more of our broadcasts is a huge bonus for Dodger fans across Los Angeles," said Dodger Executive Vice President and Chief Operating Officer Marty Greenspun. "We're really looking forward to our continued partnerships with KCAL and FSN PRIME TICKET, as together we will accomplish our goal of having all Dodger games televised in 2007 for the third consecutive season."

"The Dodgers are one of the most prestigious sports franchises in the world and we are thrilled to be able to deliver pristine, high-definition broadcasts that will significantly add to Dodger fans' viewing experience," said Don Corsini, President & General Manager, KCAL 9 and sister station CBS 2. "It's the dawn of an exciting new era in local sports broadcasting and we're excited to continue our partnership with the Dodgers."

"FSN PRIME TICKET is the leader in regional sports and entertainment television. Our 100 game Dodgers telecast schedule features legendary talent in the booth,

'Dodgers Live' pre- and post-game coverage, and the use of innovative technologies such as X-mo and Diamond Cam that provide fans with unique insider access to the game and the players," said Steve Simpson, vice president and general manager of FSN WEST and FSN PRIME TICKET.

The Dodger home games for the Freeway Series with the Angels will air on FSN PRIME TICKET on Thursday, March 29 at 7:10 p.m. and on KCAL 9 on Friday, March 30 at 7:40 p.m. The series finale in Anaheim will air on FSN West on Saturday, March 31 at 6:05 p.m.

Hall of Fame broadcaster Vin Scully, entering his 58th season as the "Voice of the Dodgers," will call all televised Dodger home games and road contests against the team's National League Western Division opponents (San Francisco, San Diego, Arizona and Colorado) as well as the opening series in Milwaukee and this year's June Interleague contests against AL Western Division teams.

For Dodger road games against non-NL West opponents, the broadcast booth will be manned by Emmy Award-winning broadcaster Charley Steiner and former Major Leaguer Steve Lyons, who are both returning for their third seasons.

FootBall:

John Tamanaha, V.P. of Communications -- (310) 407-0208

LOS ANGELES AVENGERS ADD TWO MORE TO ROSTER

Lineman Branden Hall and receiver Nichiren Flowers sign two-year deals

LOS ANGELES --

Offensive lineman Branden Hall and wide receiver Nichiren Flowers have signed free agent contracts with the Los Angeles Avengers, head coach Ed Hodgkiss announced today. Both players inked two-year deals that will keep them with the club through the 2008 season.

The Avengers also placed wide receiver Ataveus Cash on the injured reserve list (ruptured Achilles). The team is currently at the Arena Football League's 37-man limit for training camp, which continues this week at Oak Stadium on the Soboba Band of Luiseño Indian Reservation.

Hall (6-foot-4, 330 pounds) was on the Philadelphia Eagles practice squad in 2004, the year they advanced all the way to Super Bowl XXXIX. Following the 2004 NFL Draft, he signed a free agent contract with the Detroit Lions, but was waived prior to the start of the regular season. A week later, however, Hall was signed by the Eagles.

He was a four-year letterman at Troy (Ala.) University as an offensive guard. As a senior in 2003, Hall was named to ESPN.com's All-Independent team.

Flowers (6-2, 205) played in 45 games during his four-year career at the University of Nevada (Reno, Nev.).

He caught a total of 214 passes for the Wolf Pack, finishing his collegiate career with 2,648 receiving yards and 14 touchdowns. As a junior in 2004, Flowers had 91 receptions (second in the Western Athletic Conference) for 1,126 yards and six scores. In one game against Buffalo, he caught nine passes for 161 yards and two touchdowns.

The Avengers will kick off their eighth season of play in the 21-year-old AFL versus the San Jose SaberCats on Sunday, March 4, at STAPLES Center. That contest, which features the past two Western Division champions (Los Angeles in 2005 and San Jose in 2006), will kick off at 7 p.m.

Avenger season tickets, which include nine games played at STAPLES Center, are on sale now at 1-888-AVENGERS or www.laavengers.com.

Single-game tickets, which range in price from $10 to $69.50, are also on sale now at all Ticketmaster outlets, www.ticketmaster.com and the STAPLES Center box office.