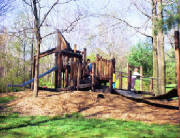 The Town of Ithaca
Tudor Park is a 2.30 acre neighborhood park in the Eastern Heights neighborhood that includes a play structure, benches, wood chipped nature trail, small lawn area, plantings and a future connection to the William and Hannah Pew Trail section of the East Ithaca Recreation Way.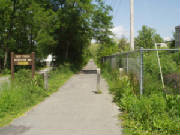 East Ithaca Recreation Way
East Ithaca Recreation Way is a multipurpose, paved, commuter trail consisting of several sections built on an abandoned railroad bed on East Hill. The total length of the trail is 2.4 miles and runs through Cornell-owned natural areas along the Cascadilla Creek near Game Farm Road. This trail will be connected to the future Pew Trail in the Snyder Hill neighborhood. Many benches exist along the trail, providing hikers and jogger's areas to rest.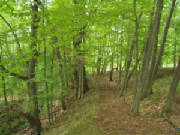 Tutelo Park.
Tutelo Park is an 8.31 acre community park currently being constructed on Bostwick Road across from the Ithaca City School District bus garage. This facility will include a regulation size Little League baseball field with bleachers and dug-outs. There will also be a comfort station, picnic pavilion, future paved bikeway connection to Saponi Meadows park site, wood chipped nature trails with benches and an on-going Children's Nature Garden with native wildflower plantings along the trails. The park includes Tompkins County's largest Shagbark Hickory and Black Oak trees.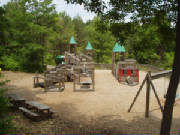 Vincenzoia Covelli Park
Vincenzo Iacovelli Park is a 3.5 acre neighborhood park located along the South Hill Recreation Way with parking available at the end of Juniper Drive. The park includes a large; Leathers and Associates designed play structure