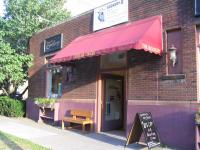 The Bookery II has several events per week - as soon as they are reported they will be posted.
Ithaca, NY, June 30, 2007: Bookery II will host local author Elizabeth Holmes for a reading from her new novel for middle readers, Pretty Is, on Saturday, June 30th at 3:00 pm. For more information email bookeryevents@yahoo.com or call 273-5055. Bookery II, Dewitt Mall, 215 N. Cayuga St.
About the Book:
Snip! With one cut of the scissors, Erin's social life changes absolutely. It's hard enough being a new girl, but it's that much worse to have a dorky older sister in the same school. When she is snubbed by the pretty and popular crowd, Erin commits an over-the-top vengeful act. This novel focuses on issues of family loyalty, peer pressure, and the desperate desire to belong. How Erin comes to terms with what she has done and with her sister makes this book a good choice for any girl threading her way through the challenging corridors of middle school.
About the Author:
Elizabeth Holmes holds an MFA from Cornell University. She has published two books of poetry, The Patience of the Cloud Photographer and The Playhouse Near Dark. Her poems have appeared in such journals as Poetry, Ploughshares, Michigan Quarterly Review, Southern Poetry Review, Prairie Schooner, and Gettysburg Review. She is also the author of two middle-grades novels, including Pretty Is, to be issued by Dutton Children's Books in May 2007.
Bookery II is the city's largest and oldest independently owned bookstore and is located in the DeWitt Mall, in the heart of downtown Ithaca. Bookery II is open Monday through Saturday from 9 am to 8:00 pm and Sunday 9:30 am to 6 pm.